A House Divided
The Institute Quest
---
This quest will be triggered or can be aquired when you complete Mankind-Redefined quest.
Related points of interest
---
Stages of "A House Divided" quest
1. Talk to Newton Oberly
Something is going on in BioScience, and Dr. Oberly needs to speak to me about it right away.
2. Follow Newton Oberly
In an act of protest, Dr. Higgs and Dr. Oberly have taken over BioScience. Dr. Oberly gave me a holotape I can use to access security functions if necessary.
He will unlock the door to the maintenance tunnel for you.
4. Talk to Lawrence Higgs
You can try to convince him to trust you (2 charisma checks). If you succeed, Higgs will open the door.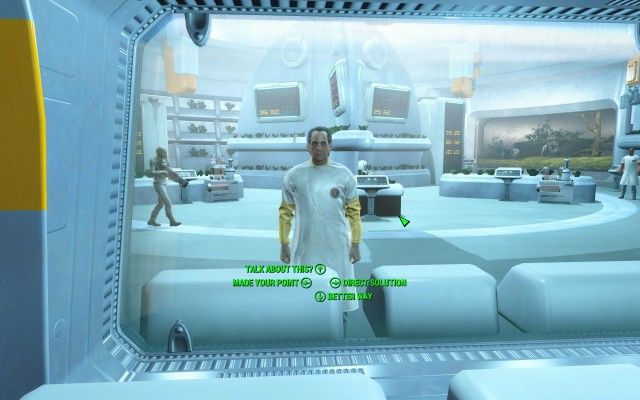 5. Resolve the Standoff in Hydroponics
Stage available if you failed to convince Higgs.
Load the holotape Oberly gave you into one of the terminals and unlock the doors.
5.1. Talk to Lawrence Higgs
Now, if the scientists are still alive, you have another chance to convince them to stop the protest.
6. Talk to Newton Oberly
Now that the standoff in BioScience is over, I need to report back to Dr. Oberly.
You can choose how the scientists can be punished.
7. Quest completed
In an act of protest, Dr. Higgs and Dr. Loken tried to take control of BioScience. I put an end to their plan.