Far From Home
DLC, Far Harbor Quest
---
This is the beginning quest of the Far Harbor DLC. To be able to get it, you must have completed Getting a Clue quest and get access to Nick Valentine and his detective agency in Diamond City Market.
Related points of interest
---
Stages of "Far From Home" quest
1. Listen to Valentine's Detective Agency Radio
My Pip-Boy has received a radio broadcast from Valentine's Detective Agency. I should listen to it and see what it's saying.
2. Talk to Ellie
There's a new case at Valentine's Detective Agency. I should talk to Ellie about it.
3. Travel to the Nakano Residence
I've agreed to take on a case for Valentine's Detective Agency. I'll need to interview the client, Kenji Nakano, at his home.
4. Talk to Kenji Nakano
I've arrived at the Nakano Residence. Someone inside is shouting about getting his daughter back. I should see what's going on.
5. Investigate the Nakano Residence
Kasumi Nakano has run away from home. I need to investigate to find where she went and why.
Talk to Kenji and Rei first or go directly to the boathouse and locate the safe.
7. Talk to Kenji Nakano
I've learned that Kasumi Nakano thinks she's a synth and ran away to a place called Far Harbor. Kenji Nakano will want to know about this.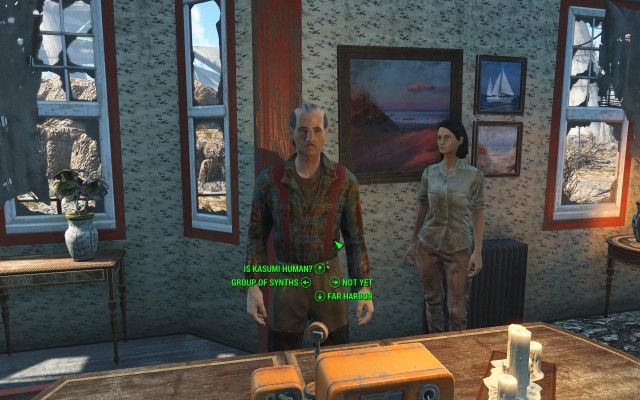 8. Travel to Far Harbor
Kenji Nakano has given me his boat so that I can make the trip to Far Harbor to look for his daughter, Kasumi.
Simply activate the boat, then it will automatically takes you to the Far Harbor.
9. Quest completed
I've made it to Far Harbor. Now I just need to find where Kasumi went and where this group of free synths is.